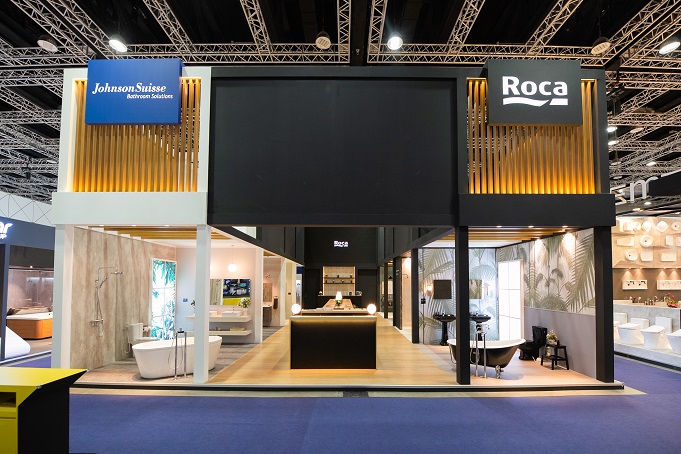 South East Asia's most successful annual industry trade event for the architecture, interior design and building fraternity – ARCHIDEX (International Architecture, Interior Design and Building Exhibition) has continually been reaping phenomenal success. It is held annually at the Kuala Lumpur Convention Centre, Malaysia, the exhibition is widely recognized as a leading event that draws together South East Asia's fraternity of architects, interior designers, developers, urban planners, engineers, academicians, students and various related industry professionals.
From 3rd to 6th July, Roca spanning over 28 booths to feature its latest in technologies, materials and trends in Archidex for both Roca and JohnsonSuisse brand.
During the event, Roca re-introduced Vintage Vibes. Roca present Carmen in Black finish, a new collection with a vintage style, recovering the design of its iconic basin of the 1940s and turning it into a comprehensive collection with featuring the latest technologies and materials such as Rimless and Supralit®.
Other than that, an exclusive Vitreous China collection like Beyond and Inspira are now available in colours. Beyond is an urban proposal with sophisticated solutions for basins shaped by Roca's new material, Fineceramic®, and the latest technologies in the design of bathroom products. Also, faucet and accessories collection are available in colours.
Besides that, elegant colours and shapes tell the new story of JohnsonSuisse.
JohnsonSuisse, the contemporary bathroom solutions brand, makes its voyage into an exciting new concept of colours by introducing three delightful colours to its ceramic, Faucet and accessories collection. Venezia collection consists of on-top ceramic washbasins with a thin and flat edge. Available in three sizes with three different colours for you to choose; Sand, Ash and Graphite, in addition to the traditional glossy white. Trento and Ferla-N faucets come exclusively in EverEx finish and it is available in two new finishes, Matte Black and Shiny Gold.
New collection of water closets are equipped with rimless technology. The rimless toilet is available both as close coupled and wall-hung, while ensuring that its external design blends in perfectly with the matching bathroom range.
The introduction of the 'Colour' is an effort by the brand to offer consumers a wide range of choice for their most personal space in the house; the bathrooms. Bathrooms, today, are more than just a functional space. With its innovative colour presentation, we are looking to rejuvenate this space and make it one where anyone can feel relaxed and refreshed.
The event started with a blast. On the first day, Roca and JohnsonSuisse had a kick-off party as an introduction of our brand new collection. This event is exclusively for Roca's client and distributor. They have the opportunity to experience the new collection first-hand.